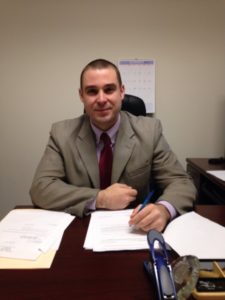 EDUCATION
I passed the New York State bar examination on my first attempt and am an avid attorney in the New York State Bar. Before becoming an attorney, I obtained an Honors Bachelor's of Arts Degree in two majors – History and Political Science – from the University of Delaware and graduated cum laude from Albany Law School.
PRACTICE AREAS
I practice primarily in the areas of Criminal Defense, including DWI, DUI and Traffic Tickets, Appeals, Personal Injury, Custody and Divorce law.  I also handle a variety of general practice areas, and am well versed in many other areas of law.  Geographically, I most frequently appear in courts in upstate New York's Adirondack region, including:
ESSEX COUNTY

Elizabethtown, Ticonderoga, Moriah, North Hudson

SARATOGA COUNTY  

Saratoga Springs, Malta, Wilton, Ballston Spa, Clifton Park, Moreau, Halfmoon

WARREN COUNTY 

Glens Falls, Queensbury, Lake George, Warrensburg

WASHINGTON COUNTY

Fort Edward, Hudson Falls, Fort Ann, Granville, Whitehall
EXPERIENCE
It definitely counts as a lawyer, and I have a lot of it.  Since being admitted to the Bar, I have represented thousands of clients in all different varieties of cases. I have appeared on behalf of clients in every level of court that exists in New York State as a criminal defense, DWI, DUI, personal injury, traffic ticket, family and divorce lawyer.  
I have had significant success at all levels, including trials and appeals.  As an appellate lawyer, I have argued in the Court of Appeals –  our State's highest court – something that 99% of attorneys never do.  I encourage you to click each individual practice area menu and read my blog to learn more.  If you are looking for a criminal defense, DWI, DUI, personal injury, traffic ticket, family, divorce or appellate attorney in the greater Glens Falls or Saratoga areas, or anywhere else, let me put my experience to work for you!