I live in a nice town. A really nice town.When you walk down the main drag – where all the shops, bars and restaurants are – the sidewalks are literally constructed with stylish paver bricks. It's all very fancy, at least right there it is. If you walk a few blocks up to where my residence is, however, the sidewalks are a VERY different story. Here's an example: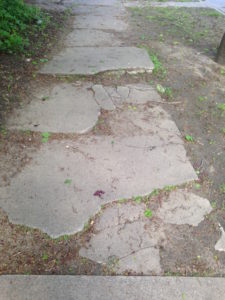 One day, as I was walking down this sidewalk (if you can really call it that) with my mother, she said "God, these are terrible, you would think they would fix this." I told her that it's been in such a sorry state for the two years that I've lived here, and probably has been for much longer. Then she asked an important question – "what happens if somebody falls and gets hurt?" The answer might surprise you, as it could involve someone contacting The Keating Firm LTD. to get a case filed against you.
You see a city, town or village is simply a municipal subdivision. It's a government entity. Governments, of course, like to insulate themselves from liability which may attach when someone is injured due to their action, or inaction. Think negligence. Essentially, the government wants to be more protected than a normal person or business. So, whereas you or I or your local business are on the hook if someone is injured due to our negligence, the government seeks ways to avoid the hook. And how exactly can the government accomplish such a thing in context of a broken sidewalk? I mean, it would seem pretty clear that if someone were to slip or trip and fall because on the above destroyed public walking path, the owner of said path (i.e., the government) should be at least partly liable for personal injury damages. Right?
Wrong! Municipalities typically enact "notice of defect" ordinances which, in substance, state that they can't be held liable for injuries occurring due to defective sidewalks, unless it had received prior written notice of the defect. I checked my local charter and, surprise!, it contains such a law. It states that "No civil action shall be maintained for damages or injuries to persons or property sustained in consequence of any street, highway, bridge, culvert, sidewalk, or crosswalk being out of repair, unsafe, dangerous, or obstructed, or in consequence of the existence of snow or ice thereon, unless written notice of the defective, unsafe, dangerous, or obstructed condition, or the existence of the snow or ice, was actually given to the Commissioner of Public Works and there was failure or neglect within a reasonable time after such notice to repair or remove the defect, danger, or obstruction complained of, or to cause snow and ice to be removed, or for the place to be made otherwise reasonably safe."
Now how unfair is that? And what about the bold text? How you can guarantee that the Commissioner is actually given your notice if you mail it to his office? Is personal hand delivery required? But there's more! I kept perusing my local charter, and I found an even better provision. Check it out: "All owners or agents of owners with property abutting or fronting upon any plaza, street or alley within the corporate limits are required to and shall have the duty to keep sidewalks, curbs and gutters abutting their property in good order and repair. The owner or the agents of owners with property so abutting shall be liable for any injury or any damage caused to any person or property caused wholly or in part by the failure of said owner or agent to so maintain and repair said sidewalks, curbs and gutters. Each such owner shall be liable to the City for all losses to the City or recoveries from the City for damages to person or property of others caused by his failure or that of his agents to repair and keep in good order and reasonably safe condition all such sidewalks, curbs and gutters abutting or fronting his property."
So, the government has decided that not only isn't it liable if your injured due to their broken sidewalks (assuming the requisite written notice was not actually given to the commissioner), but that if you own land abutting a sidewalk, it's YOUR job to fix their sidewalk. What!? And, to add insult to injury (pun intended), if the government happens to be liable to anybody for an injury, YOU are liable to them in turn. What!!?? That's a joke. Where, you may be asking, does the government get the moxy to do this? The answer is, State law. There are a myriad of state laws which allow towns, villages, cities, etc., to enact these types of notice requirements if you're injured, or if someone else is, on sidewalks by a business. While certain aspects of the above-laws may still be open to legal challenge (especially the part that forces you to fix something you may not own), they are generally on solid legal ground and have been for decades. When it comes to slips, trips, falls and sidewalks, however, the government reigns supreme. Ordinary plebs like ourselves, however, better make sure we have good insurance. It truly is good to be the king.
If you're looking for Personal Injury Lawyers near Houston, TX, to help you with your potential claim, you may want to contact Tate Law Offices. If you're in California, however, and are in need of a Los Angeles Personal Injury Lawyer, you might want to contact the Wilshire Law Firm.